Last week I was asked to do a talk for the DFW Social Media Marketing Meetup. They already had some great speakers cover Facebook and Twitter so I suggested talking about social media in the context of Viral Marketing. I've decided to post my notes here. A lot of this information is common sense, but that is, in fact, the beauty of viral marketing. The only difficult part is doing the research to make the right decisions.
Viral Marketing
1. Introduction: The "Holy Grail"
I refer to Viral Marketing as "the Holy Grail of the internet". Most people aren't sure where it is, how to get it, what it does, or what will happen to them when they find it. Much like crusaders of old, the journey to successful viral marketing is no easy task.
2. What is Viral?
Viral does come from the medical concept of a virus. If you have the flu, anyone you come into contact with may catch it, and then anyone they touch will get it and so on. Viral works the same way. You can connect with a few people and spread an idea which will in turn spread to possibly thousands of people you never came in contact with. It is Word of Mouth marketing, but online.
Some Aspects are:
Word of Net

: Like Word of mouth but faster and able to reach more people in a short amount of time

The Power of NOT marketing

: The goal of viral is in a sense, not to have to market. In other words you create the snowball and give it a push, but it will keep rolling down the hill and gaining mass whether you're still running behind it or not

Insider Phenomenon

: Viral marketing should establish some kind of community. I like to use the example of Star Wars because its one lots of people can relate to. If I'm sitting with a bunch of people at a networking group who I may or may not know and I make an obscure Star Wars reference, chances are someone at the table will get it and laugh. When I hear that person laugh I know we have a connection even if I've never spoken to them before in my life. At that moment we are both "insiders" and part of the same community. A video or concept that goes viral will draw people together and create "insiders" who will network BECAUSE of your marketing.
The Fluke Function: Unfortunately, there is no formula to viral marketing. There is no magic key, no map. There is only research and experimenting. In fact the majority of great viral campaigns went viral on accident. They were flukes. Sometimes, things just happen, and there's only so much prediction you can do. A good example is TV series. Every show on television went through tons of market research, pitching to CEOs and TV network heads, focus groups and pilots, and even then, some shows don't make it. They run one season or less and disappear forever. Others, run for ten years. We can only speculate so much on "why".
Great Examples of Viral Campaigns:
Got Milk. Even before the internet, the print marketing of milk has made an impact that we still imitate today.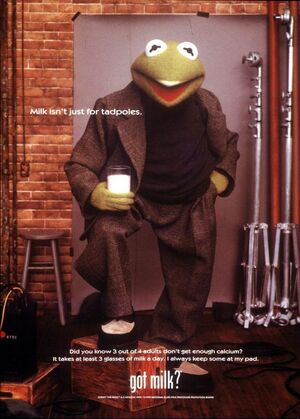 Wazzzzzzzzzzzup. Next step on the evolutionary ladder was video viral. Still a YouTube favorite.
RickRoll. This is a great example of the Fluke Function. Rick Astley has made a ton of money off of people using his video as a joke. He was even asked recently to tour again (I think he also came out with a new record but I haven't confirmed that). Either way, his song because part of an insider phenomenon.
WOW Characters. The World of Warcraft videos using famous people as characters has a huge "gamer" following and is another example of the insider phenomenon.
Anything to do with Apple. I'm not a huge fan of the Mac, but it has created images and symbols that have gone beyond branding and become a lifestyle.
President Obama. Politics was not really considered a viral form of marketing until our current President broke the mold. Now social media and viral marketing are considered essential in a political campaign. His is a perfect example in the sense that he started rolling the snowball but other people continued to make him viral (aka ObamaGirl, JibJab, the ObamaRoll).
3. Is Viral Marketing a solution for you?
So who uses viral marketing? Obviously, big businesses do. But small companies and can be very effective with viral. Small companies who have a niche audience can really lean on the Insider Phenomenon. Who is your target market? 30 years old women in Dallas with a Deep South background who happen to like cooking apple dumplings as part of Sunday Supper? Imagine if you pulled all those people together with your marketing and created a community where those women would want to share with each other about your product/service. This is the time where I tip my hat to the Long Tail effect. Go read it if you haven't. So if you think you have something that you can create a community around, than viral is a good bet for you. Great branding and good ideas may get passed along but a community gives people a value they can touch, that's what really makes something persevere. The example I use, is again, a personal one. I know a lot of gamers and when things they think are funny or interesting hit social media then they all share it with one another. If they saw it last week and I haven't yet then I'm told, "What? Where have you been?!" and I'm forced to sit down and watch some crazy YouTube video. Seriously, that's how viral marketing really works.
4. Where to start?
Again, there is no real science behind why things go viral. But there are some things you can do:
Target market. Who are you trying to reach? Get the perfect client in your head (and in person if you can). Get this as clearly defined as possible.
Research. Research. Research. Find out everything you can about that target market. What medium do they like best? What kind of marketing has worked in the past? Is there a particular site or blog that seems to promote material similar to yours? What else are they interested in that you can connect to?
Branding. Make your message clear and tight. A video can be long, rambling or just plain spasmic but the message and the final burning impression should be flawless. If you make a great video and 100,000 people see it but you have not created any brand awareness, your efforts were useless.
Trial and error. After that its trial and error. I hate to say throw mud against a wall and see what sticks but in the end, that's often how it goes. When you test ideas, make sure to track and get feedback on everything. When it doesn't work go back to step 2 and start over.
Side note: hire a professional. I'm giving you tips and ideas but in the end, it does make a difference to have a specialist on your team.
I'm going to tell you that research counts way more than production on the whole. Think about all the random pictures of people's cats seem to end up all over the internet. Sometimes a random video caught on someone's phone makes it to the news. Your branding and message should have quality but remember the Fluke Phenomenon, sometimes things just "go" viral, for no reason. In other words, feel free to start small.
Final Thoughts
The Players: Again, let me say RESEARCH. The players can be whatever medium your target market responds to but I have seen fantastic viral done with: Facebook, Twitter, YouTube, email marketing, Blogs, Forums, Print, Video, podcasting, soundbytes…. and so on. Someone at the talk suggested Linked-In to me. Don't get me wrong I'm a huge fan but I don't have any good examples of a viral campaign on Linked-In, though I'd be happy to learn. Also, let me just note that video is the most powerful tool in a viral campaign. Most people are visual. Plus, video can be shared through any of the other mediums.
Create a Champion: Look, one of the goals of viral marketing is to be lazy. Get someone else to market for you. Create people who will champion your brand because in the end, someone else saying how great you are matters far more than how great you think you are.
Community: Don't forget: the goal is to create a community. A community will perpetuate anything you market. It will breed champions. It will provide feedback and research opportunities and even expansion. Don't underestimate its power.
Personal Aside: I've fleshed out my notes a bit because I think my speaking was not up to par that night, I was was mildly drugged from a CT scan… so, needless to say, I was very entertaining!
Feel free to share your favorite viral campaign!
Image by
eddiedangerous
P. S. If you have an interest in doing some viral marketing please let us make a bid on your project! Contact us here. .
Tags: Community, Contagious, demographics, Fluke, Got Milk, Holy Grail, Insider, long tail, marketing, ObamaGirl, President Obama, research, RickRoll, Social Media, Viral, Virus, Word of Mouth